Compensation cycles are crucial for any organization, as they serve as the foundation for both employee satisfaction and financial stability. Whether it's a yearly, bi-yearly, or even quarterly process, managing these cycles efficiently can be a challenge, no matter how often you conduct them. Ensuring that your compensation cycle, or merit cycle, aligns with your company's values, budget, and goals is important for both your employees and your bottom line.
So, do you wish there was a way to run comp cycles quickly and efficiently while also achieving your employee goals and maintaining a healthy balance for your business? Pequity's got you covered.
Pequity will soon offer a new and comprehensive solution to help you achieve this balance with the release of our Compensation Cycle Dashboard and Analytics.
Visualize Comp Cycle Impact in Record Time
Pequity's Comp Cycle Dashboard equips compensation leaders with all the tools they need to oversee the entire compensation cycle from start to finish. With this dashboard, you gain complete visibility into your comp cycle's budget, progress, and outcomes. This level of insight results in faster, more accurate cycles that can be measured for success.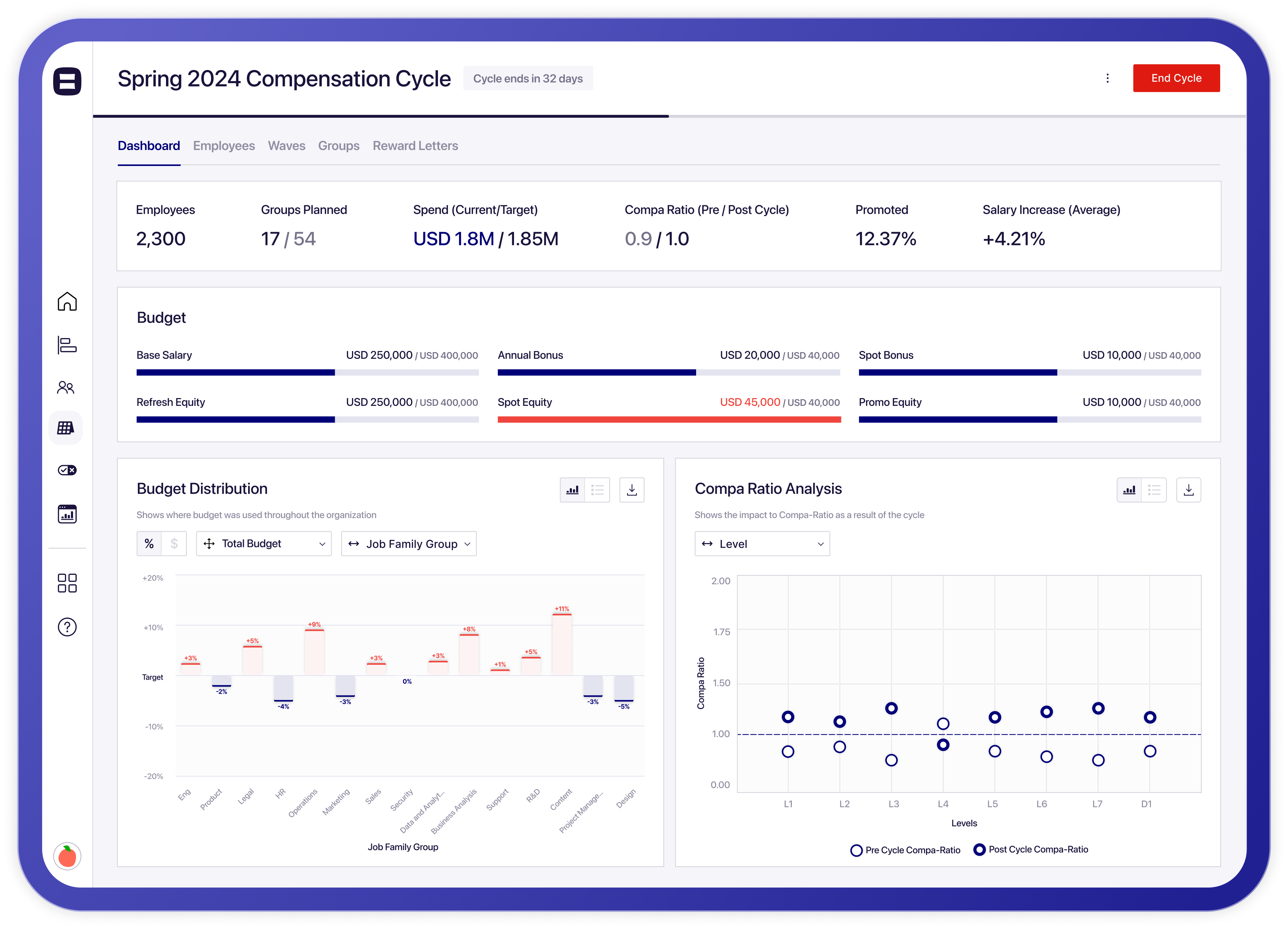 Start-to-Finish Comp Cycle Monitoring
The Comp Cycle Dashboard allows admins to monitor every step of the compensation process, ensuring alignment with your company's objectives and values. This newfound visibility enables better-informed decisions, ultimately benefiting both your organization and your employees.
Automatic Comp Cycle Analysis
Once a compensation cycle is complete, determining if it was done correctly can feel overwhelming. The traditional method involved sifting through endless spreadsheets and copious amounts of data. But let's face it, compensation teams are already swamped. That's where Pequity's Comp Cycle Dashboard and Analytics step in, offering a game-changing alternative.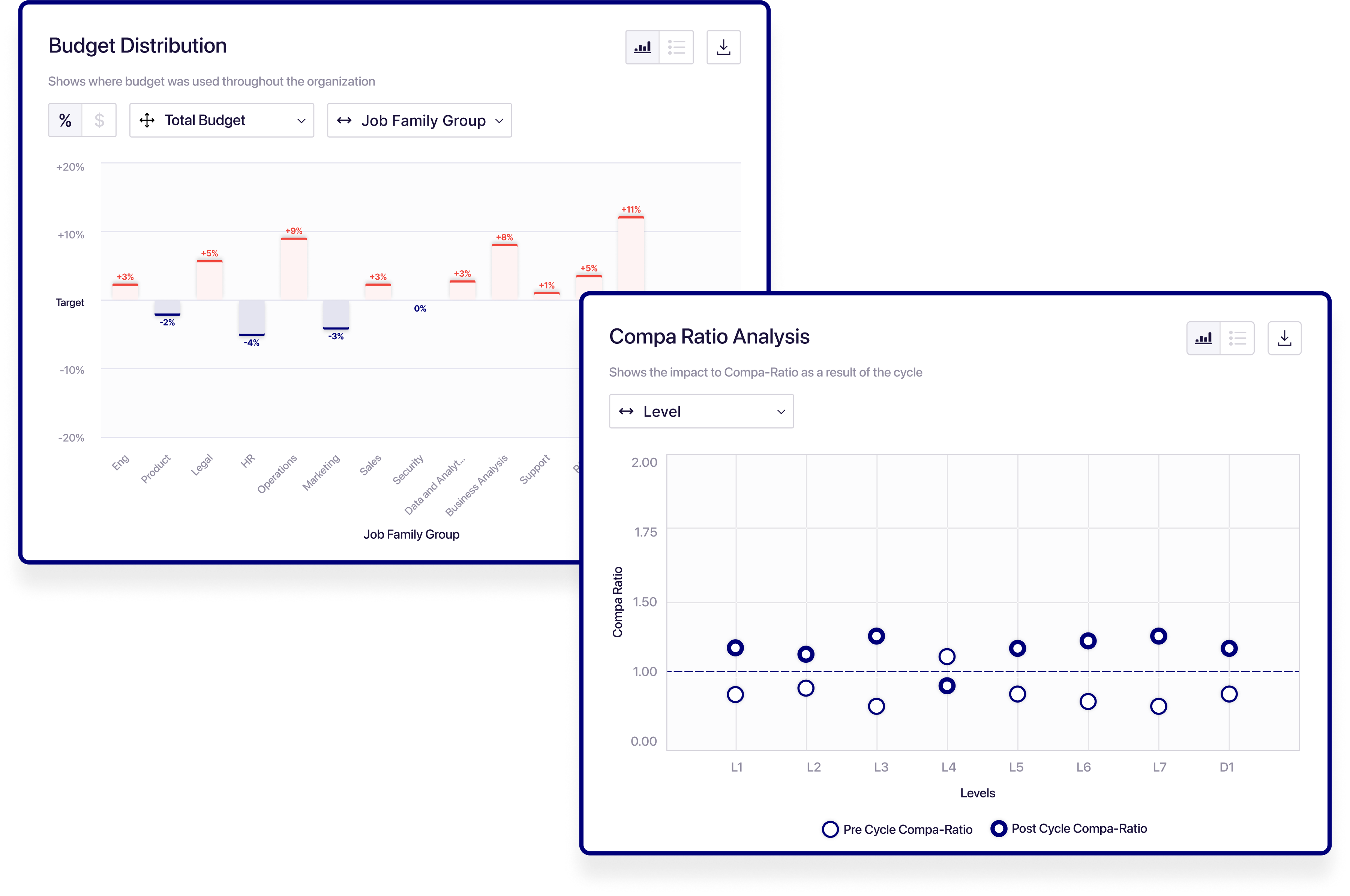 Pequity's solution replaces exhausting one-off analyses with a user-friendly platform that simplifies the entire process. It enhances compensation health by providing tools to see and measure everything in one place. This smart approach ensures you won't miss any potential issues, making your compensation cycle work even better for pay equity and overall compensation health.
It's Your Comp Cycle. Own It.
Pequity's Comp Cycle Dashboard and Analytics aren't just about providing data; they empower you to take control of your compensation cycle. Admins have the ability to filter data based on attributes that matter most to them. For instance, if Gender is a critical factor, you can easily filter data by Gender.
Beyond data filtering, Pequity's platform offers other essential measurement views, including:
Relevant High-Level Metrics: Gain insights into crucial high-level metrics for the cycle. This information helps compensation teams make informed decisions and ensure alignment with the company's goals.

Budget Breakdown

: Understand your compensation budget at a granular level by breaking it down into elements of compensation. This transparency allows for efficient budget management and allocation.



Visualizations for Impact Analysis

: Visual representations help you better understand the impact your compensation cycle is having on pay equity and compensation health. These visualizations provide actionable insights for continuous improvement.
In the world of managing compensation, Pequity's Comp Cycle Dashboard and Analytics are a game-changer. They simplify the process, make things clearer, and give compensation leaders the tools to make informed decisions that benefit both employees and the organization's financial health. By using Pequity, you can create a balanced compensation cycle that leads to success and prosperity for your organization. It's time to take control of your compensation cycle like never before.
The Comp Cycle Dashboard and Analytics will be available later this month. Sign up here to be notified as soon as it's available!